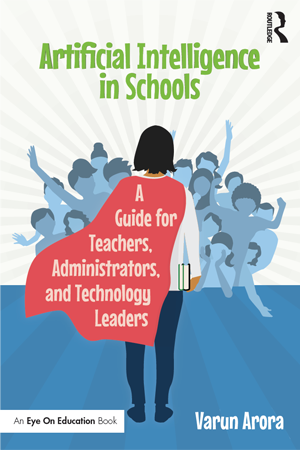 Publisher:
Routledge; 1st edition (December 31, 2021)
Publication date:
December 31, 2021
"Artificial Intelligence in Schools is the first book to explore the use of Artificial Intelligence (AI) as a tool to enhance K–12 instruction and administration. Every industry and sector will be drastically affected by the presence of artificial intelligence, and schooling is no exception! Written for the in-service community leaders, administrators, coaches, and teachers alike — this is your one-stop opportunity to make sure you don't fall behind the fast pace and promising innovations of today's most advanced learning technology. Author Varun Arora presents AI as a problem-solving tool for teaching and learning, exploring its potential and application in real-world school contexts and in the language of educators. Covering curriculum development, feedback and scoring, student empowerment, behavioral and classroom management, college readiness, and more, the book is full of novel insights and concrete, strategic takeaways."
Reviews
"This book provides an excellent view on how teachers will be at the center of education in the digital age and on the impact that AI can have to enhance learning combined with great pedagogical practice."
- Armand Doucet, Teacher at Riverview High School, Canada, 2017 finalist for the Global Teacher Prize, and author of
Teaching in the Fourth Industrial Revolution: Standing at the Precipice
"If you are a teacher or an administrator who keeps hearing about AI but find yourself scared by the jargon and math, embarrassed to question the claims of vendors trying to sell you on their latest personalized learning product, or unsure of where to begin, then pick up this book! Varun Arora will guide you through and demystify artificial intelligence, putting the teacher first and framing the conversation around problems that educators care about. He does so with a healthy blend of optimism and skepticism, a sense of humor, and an accessible narrative writing style. Even if you are a researcher in this field or an engineer creating new educational technologies, this book can introduce you to new AI techniques and new ways to apply AI to educational problems. It did for me! That's just how much ground this book covers without compromising accessibility. This book could have only been written by someone who has a deep knowledge of artificial intelligence and a deep understanding of the needs and values of teachers. Varun Arora is a rare author who meets that description."
- Shayan Doroudi, Assistant Professor in the School of Education at the University of California, Irvine, USA
"Understanding AI is key for any young student who wants to have a decisive edge in the age of AI. But for many K-12 educators, AI is still a mystery, and its practical application in the classroom are imaginary at best. In Artificial Intelligence in Schools, Varun Arora offers masterful insights into the ABC's of AI and its potential to inspire young minds. He cautions teachers not to think of AI as a shiny new tool but rather as an application of technology that can illuminate efficiencies with the potential to radically change learning experiences in classrooms. Evangelizing educators with new learning approaches is nothing new, but, in 2019, the stakes are high as countries around the world implement national AI education policies. This book takes the mystery out of AI and puts the magic squarely in the hands of teachers."
- Davar Ardalan, Executive Producer at National Geographic and Founder of IVOW
My notes and reflections
I didn't ever plan to write a book about AI. Actually, I didn't plan to write a book to share any wisdom at all, since I tend to be so focused on doing the work and not playing guru on what others need to think and do. But I kept observing that investments, time, energy, and thought in education are driven by popular narratives of the time, no matter how sound or grounded they are. They take these resources away from more urgent narratives that focus on equity and social balance. One of the key narratives of the past 2 decades has been adaptive personalized learning and AI. And this narrative has been plagued by hyperboles, lies, and knee-jerk reactions. There is an urgent need for nuance, subtlely, and inclusiveness in not letting this narrative misguide and jade a whole generation of education change-makers.
So, instead of resisting the narrative, or acting like it is easily ignorable, I chose to embrace it in a way I thought benefitted the people who were deeply affected by this: teachers. This book is my attempt to bring educators into the light on that deeply mysterious technological idea. And in the process, I've tried to separate the foundational strengths from the smoke and mirrors. I have a core interest in building a much more solid informational and knowledge basis for approaching problems in education. With this book, I have been able to make links of key ideas in learning to this basis, all with the potential of what we call modern AI.